Act One Introduces Students to the Art of Film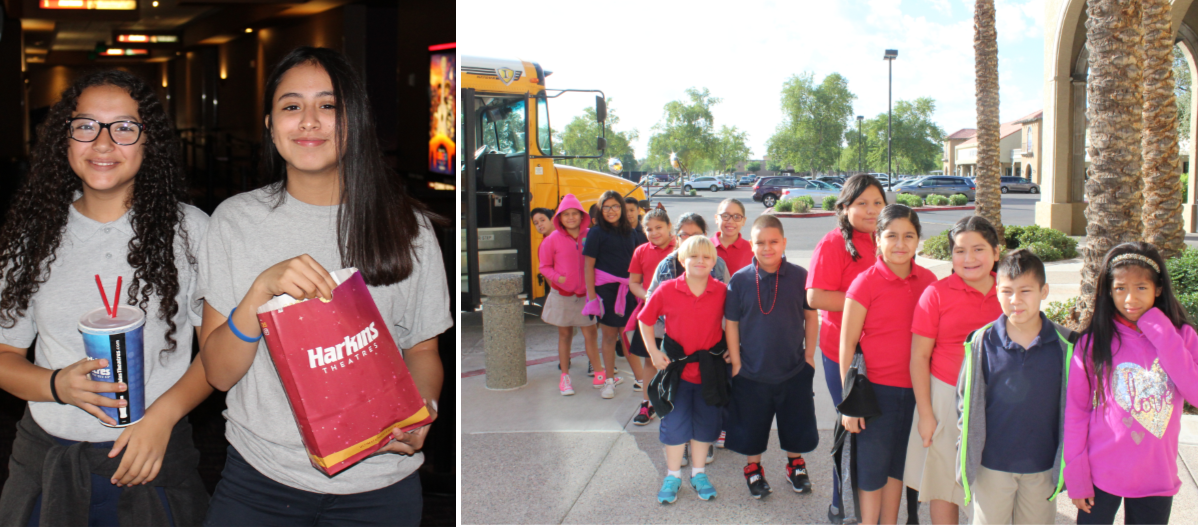 It's the weekend. Many of us are thinking about what movie we'll see. The blockbuster "Black Panther" or the Oscar winner for Best Picture, "The Shape of Water?" Watching movies is a normal pastime in American life, unless your family lives in poverty. It's surprising to learn that children in nearby poorer communities have NEVER seen a movie in a theater.
Act One offered a new field trip this year showcasing the art of film. Act One partnered with Scottsdale International Film Festival to provide a screening of animated children's shorts at Harkins Shea 14. On November 2, 323 students from six Title 1 schools saw meaningful artistic films and enjoyed the movie-going experience.
Craig, a Mesa charter school teacher where 95% of the students receive free or reduced lunch, learned about Act One from a school administrator and signed up to take his class on Act One's film field trip. He said, "I will just say this … my students are all below the poverty level. They seldom go anywhere with their families …"
What was their reaction to seeing the films? Craig shared, "My students loved the short films. For some students, this was their FIRST TRIP to a movie theater EVER … these are 10 year olds. Juan was so excited to get to be inside a theater he could barely sit still. He was shocked at the difference between seeing a movie on TV and the experience of being in a large theater."
Why aren't the arts, and movies in general, a reality for the families of Craig's students? He described their circumstances. "One of my kids told me yesterday, 'I hate the rain!'. I asked why, saying that I love the rain. She replied, 'Because I have to go up and put extra cardboard and bricks on the roof, and I get all wet.' About 90% of my kids have similar stories. Stories of sleeping outside because there's 'no more room on the floor.' … The plays, operas, concerts and movies that you provide are the only introduction these kids will ever get to the arts."
Act One field trips introduce students to the arts as part of a complete arts program. In Title 1 schools, a field trip may be the only arts education they can offer their already disadvantaged students. Craig raised this point, "…my school has NO arts programs whatsoever. If it weren't for you guys, these kids would literally never get to experience ANYTHING outside of basic "reading, writing, 'rithmatic." You may not know it, but you are doing very important work.
"… The plays, operas, concerts and movies that you provide are the only introduction these kids will ever get to the arts."