From the desk of the Director of Arts Education: Title IV-A Grant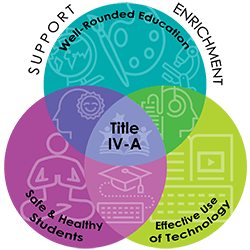 Hopefully, you are enjoying the sweet spot of teaching in October. The beginning of the school year madness is behind you and the promise of the rest of the year to enjoy your students is in front of you. Are you ready to provide more enrichment opportunities to your students? I have some information for you…
Did you know?
Title IV-A funding is provided each year to Title I districts & charters to support enrichment activities contributing to the Well-Rounded Education of students. The Title IV-A grant can fund activities in three categories: Well-Rounded Education, Safe & Healthy Students, and Effective Use of Technology. These categories can include the arts and arts education – even field trips!
Curious about your district or charter Title IV-A funds?
There is money to be spent on your students! View 2021 Preliminary Title IV-A Allocations
School Needs Assessment & Action Planning Process
Districts & charters receiving more than $30,000 of Title IV-A funding must conduct a needs assessment to identify areas needing improvement, as well as to develop an action plan for funding, and method for evaluating Title IV-A programs. Ask your principal or district staff on how to get involved in your school planning process.
Who do I contact for more information?
The federal programs director would be able to provide more information about the district or charter's plan or you can view approved applications on the Arizona Department of Education's public grant website by searching for the ESEA Consolidated Application. For general questions email TitleIV-A@azed.gov.