Theater Adventure Takes Elementary Students to Amazon Rainforest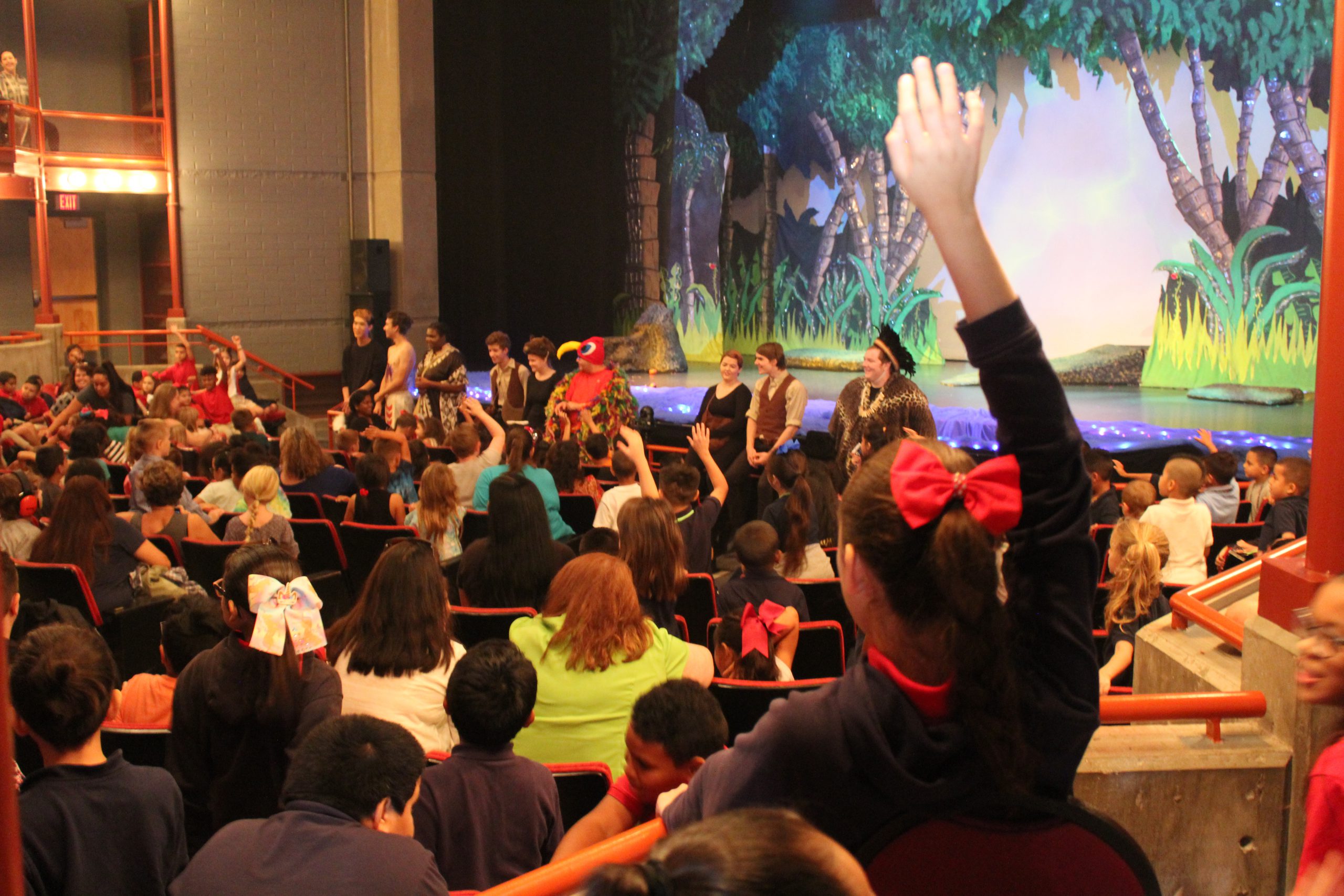 Theater takes the audience on a journey, and students from Pima Community College's theater program transported more than 700 elementary students and 103 chaperones to the Amazon rainforest on two recent Act One field trips to the Pima Community College Center for the Arts.
For some students, the journey began in their classrooms as they learned about the Amazon (the region, not the company!), rainforests and the animals and biome of the region. As students hopped off their buses and approached the Center for the Arts, their excitement was high. For many, it was their first theater experience.
When the lights dimmed and the stage lit up for the first scene of The Magic Rainforest: An Amazon Journey, an awed hush descended. That moment is particularly special for Samantha Pinkley, Act One's field trip manager, who works directly with the teachers throughout the weeks leading up to the field trip.
"It's fun to see all the planning and work come together when the students walk into the theater," Pinkley says. "They look around and take everything in. They respond to the actors and become engrossed in the show. They're transported to another place."
Since the beginning of the school year, more than 42,000 students have been confirmed for Act One field trips, topping the total number of participants on field trips last year by more than 4,000. It is expected that more than 45,000 students will attend Act One field trips this school year.
For teachers attending the two showings of The Magic Rainforest, the field trip serves as a shared experience for their students that has already stirred discussions and can serve as a jumping off point for further learning.
Lisa Sherman, a teacher from Highland Free School, noted that the kindergarten students had been talking about the play all day after they saw it. Another teacher from Highland, Teresa Rodriguez, said students will be learning about theater soon and "will be using this as a background experience to reflect upon when making our own play."
Mary Stevenson from John B. Wright Elementary School shared that eight of her students are refugees and six speak other languages including Spanish, Somali, Nepalese, Swahili and Arabic. "They all enjoyed the show and were able to communicate their favorite parts. We have not stopped talking about it.
"Thank you so much for the opportunity, and please let your donors know that we very much appreciate their contributions to make this possible."