December Culture Pass Spotlight: Desert Botanical Garden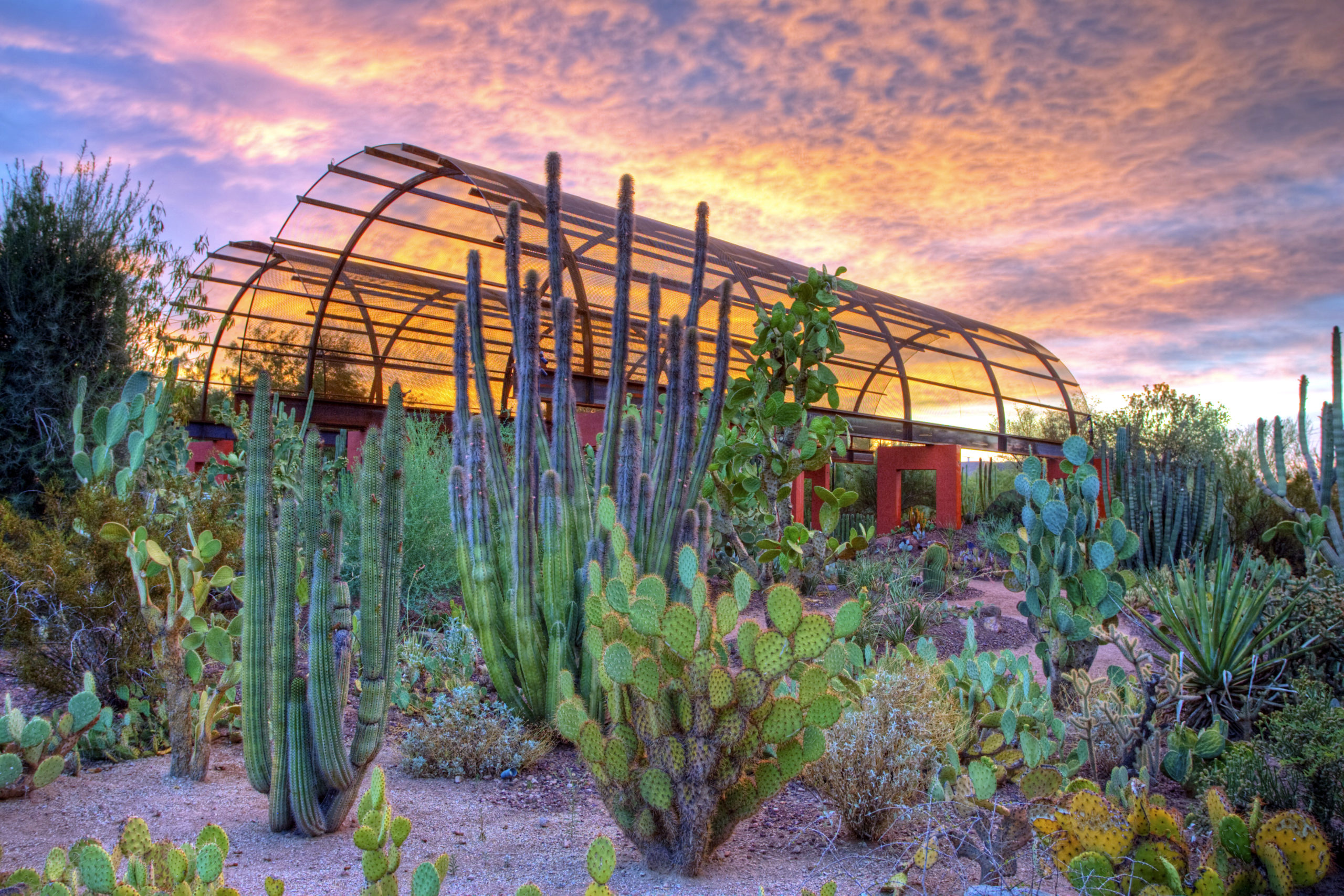 Desert Botanical Garden
With over 4400 species of flora, the Desert Botanical Garden in Phoenix boasts the largest number of desert plants in a living collection anywhere on Earth. Considering the focus on endangered animal species for many zoological organizations, the Desert Botanical Garden also focuses on conservation efforts for endangered plants. More than 400 of the Garden's plants are rare or endangered species. In the spring, the Garden hosts their annual Spring Butterfly Exhibit where guests can walk among thousands of live butterflies native to the Southwest, learning about the importance of pollinators in protecting the desert ecosystems.  
The Desert Botanical Garden is also a haven for fans of the arts, especially visual art. With permanent displays of sculpture from Dale Chihuly as well as rotating exhibits that in the past have included over 1,000 animal sculptures made from recycled materials in "Wild Rising by Cracking Art" and the "Earth" display by the Waterlily Pond Studio sculptors, Natasha Lisitsa and Daniel Schultz in which these two artists made their garden debut, focusing on using natural shapes and light.  
The current exhibit, on display until June 19, 2022, is "Chihuly in the Desert," an installation of his work in dual locations, part being at the Desert Botanical Garden, and others housed at Taliesin West, the Sonoran Desert home of late architect Frank Lloyd Wright.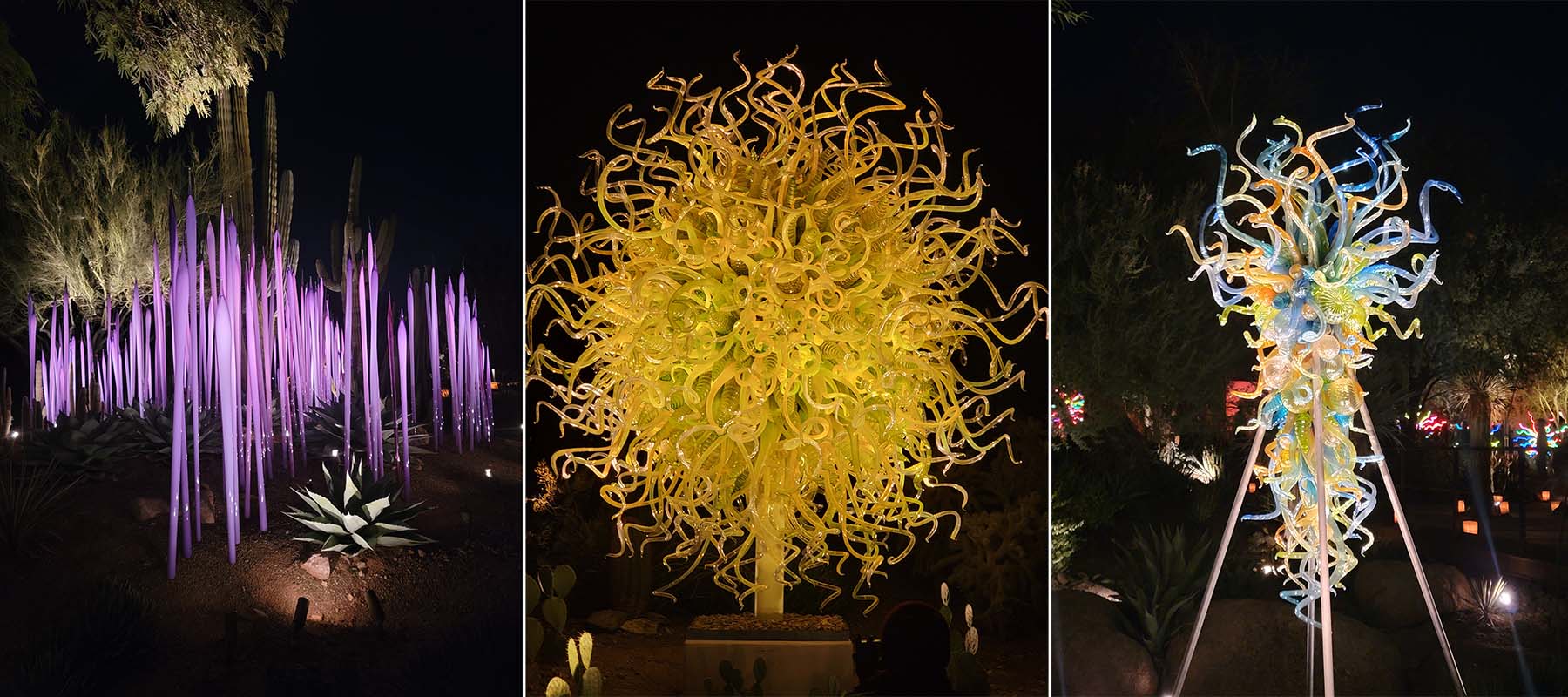 In addition to their conservation and education efforts, as well as support of the arts, the Garden is also a place to experience seasonal cultural events, such as their annual winter holiday-themed event, Las Noches de las Luminarias, and their Ofrenda altar exhibition for Día de los Muertos. 
The Desert Botanical Garden is one of the more prominent participants in the Culture Pass program, honoring thousands of passes to their garden each year for our local library patrons. Culture Passes for the Desert Botanical Garden are offered in local libraries throughout the state.  
The Garden is mostly accessible for those who use wheelchairs or other assistance devices, and paths that may be difficult to traverse are clearly marked, although they are few and far between. The vast majority of the Garden's pathways are paved and fully accessible to all. There are also many places to sit, rest, and enjoy the beautiful natural vistas throughout if desired.  
As one may expect, the Garden is nearly completely outdoors, so it is important to bring a hat, sunglasses, and sunscreen to protect yourself from the Arizona sun, no matter the time of year. Arizonans know it is important to bring water with them wherever they go, and the Desert Botanical Garden supports that with their two open hydration stations where guests can easily refill their reusable water bottles. Currently, face masks are required for all indoor and outdoor spaces where social distancing is not possible. 
As always, if you are interested in acquiring a Culture Pass for the Desert Botanical Gardens or any of our other amazing partners, visit one of the over 80 library branches statewide that offer the passes for checkout. A list of libraries at which passes are available is located at act1az.org/culture-pass.
For the safety of all their guests and staff, a limited number of visitors will be admitted every 30 minutes. Visits must be scheduled ahead of time by making a reservation here or by calling 480.941.1225. Please bring your confirmation number and e-ticket located in your email. Please have your e-ticket on your phone or printed paper tickets ready for scanning. No walk-up purchases will be permitted at this time. 
Desert Botanical Gardens
1201 N Galvin Pkwy, Phoenix, AZ 85008
(480) 941-1225