Partner Spotlight: Tetra String Quartet at Orpheum Theatre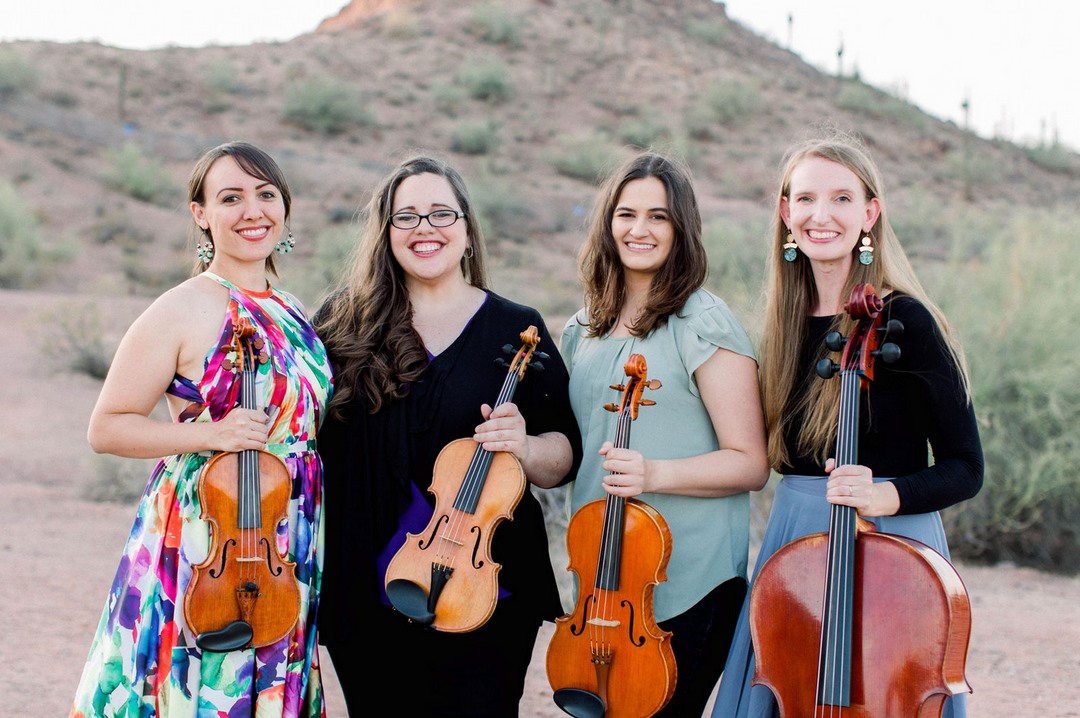 Tetra String Quartet at The Orpheum Theatre
Arriving at The Orpheum for a Tuesday field trip, the first thing you notice is the quiet of Downtown Phoenix. Something that as a child I never would have appreciated but in our post-COVID hustle, I've begun to welcome. The lights of The Orpheum beam into the morning haze and the ushers are inside preparing for students to arrive.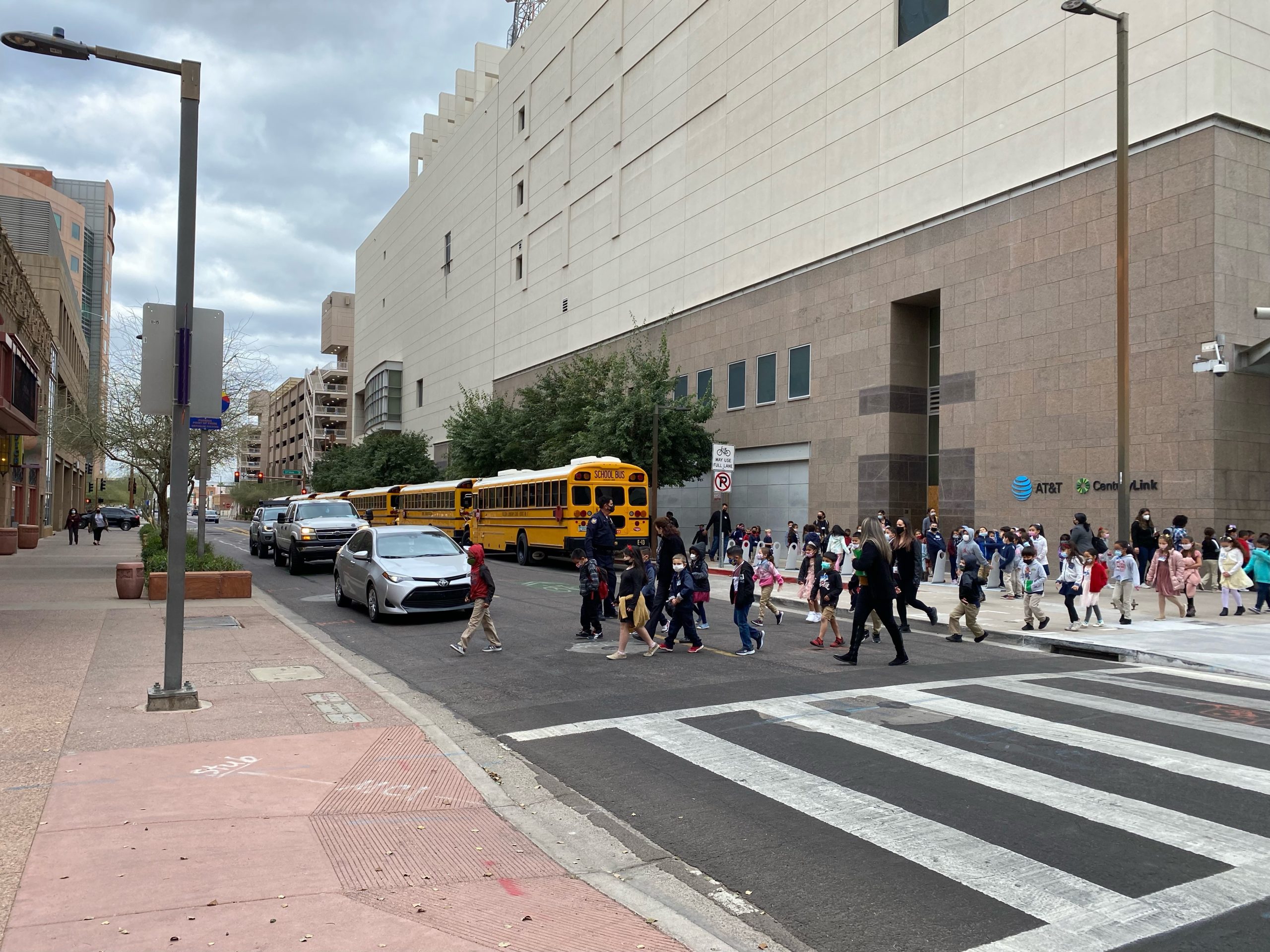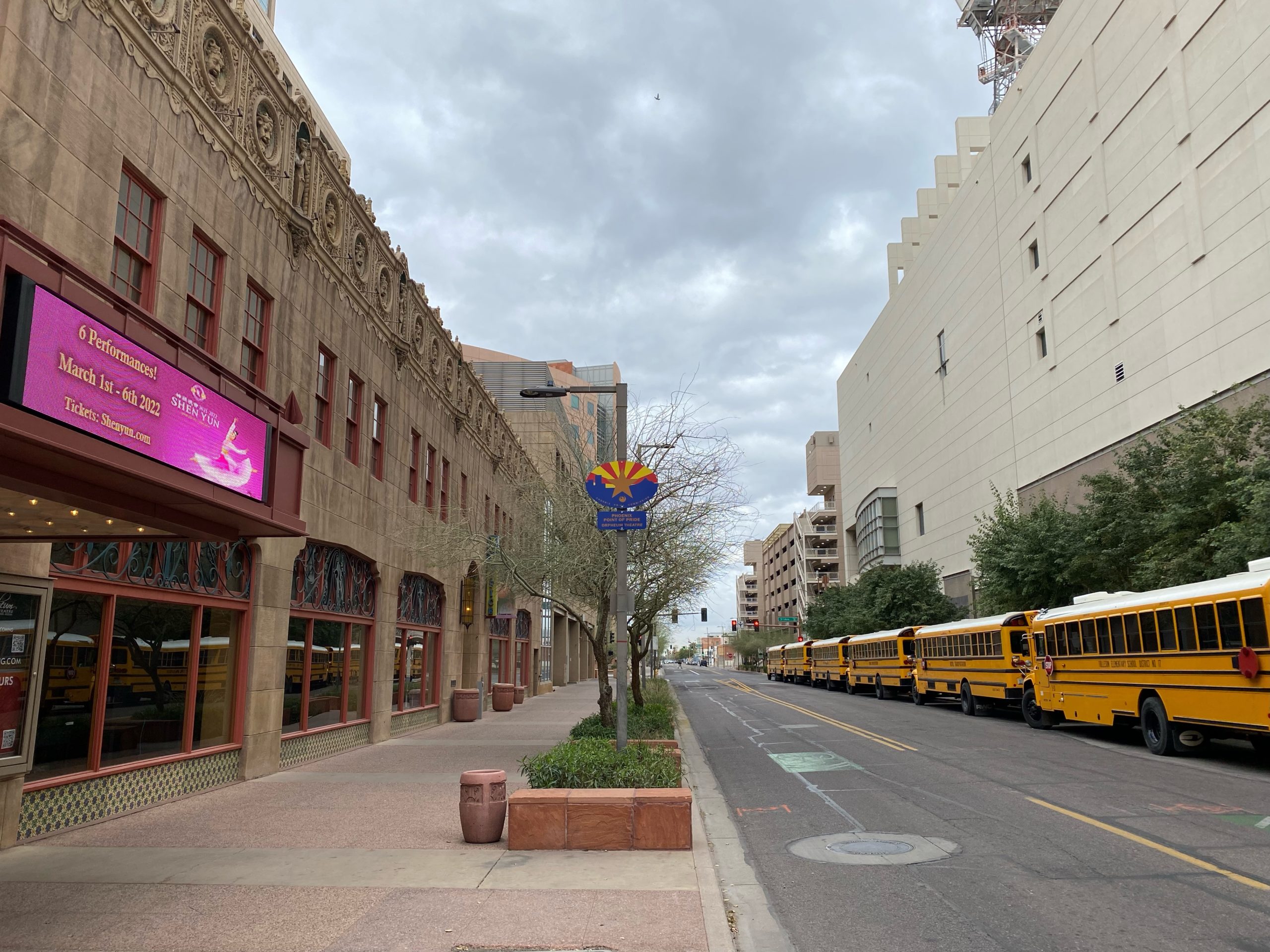 A trip like this, to see Tetra String Quartet perform at The Orpheum, has been in the works since May of 2021. Eight months of coordination, reservations, and battling pandemic uncertainty has finally led to this gorgeous morning and Act One staff anxiously awaiting nine buses full of  Kindergarten to 6th grade students.  
Prior to this event I hadn't had the pleasure of seeing Tetra perform live. What I did know is that they had performed their educational concerts for several years in the Valley with great success. They contracted two back-to-back performance dates with us, providing Act One the entire house for the students we serve.  
As I walk into The Orpheum with the students I watch their eyes look around wildly, taking in the ornate interior. You can't blame them, 6 or 62 years old, this theatre was designed to inspire. It was built in a Spanish revival style of Spanish Baroque architecture which is intended to make the audience feel like they are outside. This 'al fresco' moment is enhanced by an illusion on the theatre ceiling to look like a night sky and small cut-out nooks and hideaways along the exterior wall.  
I take a seat behind the students and look up to the four chairs lit in a deep blue light on the stage, framed in the gold proscenium. The house lights go down, and I hear the students erupt excitedly. The stage lights come up on four musicians, Chandra Susilo – Violin, Heidi Wright – Violin, Kimberly Hankins – Viola, and Jenna Dalbey – Cello. They begin their first piece, which concludes in their introductions. As the women introduce themselves, they each play short popular clips to display the variety in their instruments. Of course, the students were much more excited to hear the Frozen "Let it Go" reference than the Jaws "Shark Theme," but I thought they were both hilarious.  
Their program for today, "Freedom in Expression," consists of classical pieces, spirituals, and even a Dutch wedding piece custom arranged for their group. The quartet navigates each piece delicately, engaging the students with context, stories, and a visual physics lesson about sound and vibrations. Each moment more engrossing than the last, as evident by the 1st grade students on the edge of their seats.  
It is obvious that this group has found their musical niche by providing entertainment and education to students but also meet their mission "to redefine the role of chamber music in today's society." Their website lists a large variety of educational programs including work with the Phoenix VA Hospital, autism-friendly performances, high school residency projects, and their own Tetra Chamber Music Institute. 
Tetra has made a conscious effort to pour their resources and hearts back into the Arizona community and as they take their bows, the students repay their efforts with raucous applause. This performance was the return to the stage for Tetra post COVID shut downs, and for  our students in 2nd grade and under, it was their first trip ever. Leaving the building with the quartet, the feeling of relief and happiness at returning was unmistakable. The Orpheum doors close behind us and the last bus pulls away, leaving all of us to stand outside in the stillness for a moment before we all depart ways. Until tomorrow and the next trip of course… 
–  Hanna Schehr, Field Trip Manager