Act One Celebrates 200,000th Arts Field Trip Participant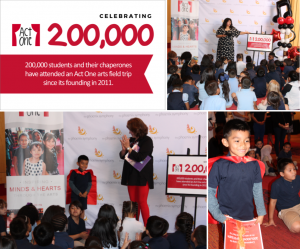 At a Phoenix Symphony field trip on Thursday, May 16, 2019, Act One celebrated Elias and his kindergarten schoolmates from Brunson-Lee Elementary School in the Balsz School District. That's because Elias was the 200,000th participant on an Act One field trip! The students were honored before the 10 a.m. Phoenix Symphony field trip in a ceremony celebrating the milestone for Act One, which has been providing field trips to performances and museums for students from Title 1 schools since 2011.
Elias spoke with Act One founder Mac Perlich and shyly answered questions about his expectations for the field trip. His classmates pitched in to help with some answers. And Elias grinned from ear to ear when Mac placed a red cape on him to celebrate the field trip's theme, "Be Your Own Hero," and presented him with a certificate and book about the orchestra.
According to Brunson-Lee kindergarten teacher Kat Araiza, the students have been preparing for the field trip by listening to orchestra music, watching videos, learning about tempo and talking about the instruments. "… in my classroom, my students enthusiastically responded to the conductor. They even grabbed their pencils and vigorously waved them around as they watched the conductor in the video," she noted.
After the field trip, all the students were given capes, provided by Act One, to "Be Their Own Heroes." The kindergarten classrooms were also given books about music and the orchestra thanks to Changing Hands Bookstore and the Literary and Prologues Society of the Southwest.
"Every student deserves high-quality arts experiences outside the classroom regardless of what neighborhood they grow up in," Araiza told the crowd gathered for the 200,000th celebration. "Exposure to new ideas opens pathways for learning that were previously unknown. The arts stimulate our senses, and my kindergarteners today, I know personally, they awaken with the arts. I know after today, their creativity will continue to soar, and they can share that heightened inspiration with their own communities."