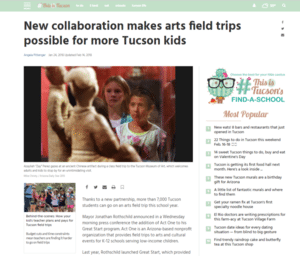 New Collaboration Makes Arts Field Trips Possible for More Tucson Kids
Tucson Mayor Jonathan Rothschild's Great Start Program merged with Act One and the field trip program in January 2018. Check out the article in the Jan. 24, 2018, issue of the Arizona Daily Star. 
"Thanks to a new partnership, more than 7,000 Tucson students can go on an arts field trip this school year.
"Mayor Jonathan Rothschild announced in a Wednesday morning press conference the addition of Act One to his Great Start program. Act One is an Arizona-based nonprofit organization that provides field trips to arts and cultural events for K-12 schools serving low-income children."